Well, a decent chunk of this weekend could be titled "Getting Ready For Kid #2". That meant a LOT of cleaning. Fortunately, I still had plenty of time to get crackin' on several products that I really wanted to get a good (and in a couple of cases, second) look at:
-
Campaign Coins
. Wow. I tell you, I don't know what folks will think of the cost of the product, but for sheer coolness/rockingness, its way up there. I absolutely love new, well-considered gaming accessories, and Campaign Coins would fall right in there. It also may have the most interior packaging of any RPG product, ever. For those who haven't seen them yet, here's a pic from their website:
-Reaper's Goroloth mini is quite nicely done, but is going to take some extensive work before I have it in good shape. Here's Goroloth's yearbook pic, for the curious: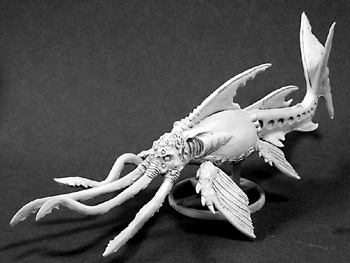 -Staying on Reaper for a minute, I was pretty excited when they announced a few months back their
Legendary Encounters
prepainted plastic minis line. Regrettably, the Minotaur I received for the purposes of judging is striking visually, but has a bit of trouble standing totally upright and balanced. It looks as if the base may have been bent/warped a bit in packaging. Bummer!
-
Colonial Gothic
by Rogue Games is one of the best ideas for an idea that I'd heard of in a good while. Upon further reading, though, I think there are some issues with the system that I really need to playtest, mainly in the area of skills. This RPG has some really cool concepts, but I'm just not sure how that'll weigh vs. the editing issues and rules questions I have.
-I'm reacquainting myself with
BattleTech
! There's a lot of product here to review, and I'm making sure I don't miss anything. Some products are such that you can just look at it and know an extra dose of work and consideration went into their completion. BattleTech's current line=that.
-As a long-time Palladium fan, that side of me was very much looking forward to
Rifts Dimension Book 10: Hades
. The book itself is chock full of concepts and great ideas for Rifts, Palladium Fantasy, and more, but the layout is standard Palladium Fantasy, somewhat disappointingly organized, and detracts from the overall product to a point. On the other hand, Carl Gleba provides really good bits in here, and really shows off his stuff as a writer (just really good writing throughout). So, a mixed bag, but one that was still a fun read.
I looked at a few other products this weekend, but more on those as I get a chance to look them further.